Quinn's Chemist
Regular price
€75,00
Sale price
€50,00
Unit price
per
Sale
Sold out
Target Species: Sheep 
Treats & Controls: For use in areas of zinc, iodine and selenium deficiencies and for the improvement of cobalt supply.
The ZincoIsel sheep bolus supplements the diet of the sheep with the nutritionally essential minerals zinc, cobalt, iodine and selenium, and will last over the grazing season.
ZincoIsel Sheep Bolus is a unique, soluble glass trace element bolus for sheep, which delivers rumen-available ionic zinc, ionic cobalt, iodine and selenium to the animal at a controlled and constant rate for up to four months. ZincoIsel Sheep contains no copper.
Active Ingredient(s):   zinc, iodine, cobalt and selenium
Dosage: one bolus per animal
Share
View full details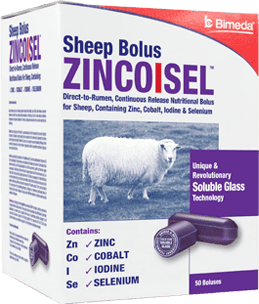 Always a pleasure to do your business here. Very knowledgeable on cattle and sheep.
John McDermott - Google Review