Quinn's Chemist
Regular price
Sale price
€30,00
Unit price
per
Sale
Sold out
Target Species: Cattle, Sheep
Treats & Controls: 
For the active immunisation of sheep and cattle against disease associated with infections caused by Clostridium perfringens type A, C. perfringens type B, C. perfringens type C, C.perfringens type D, Clostridium chauvoei, Clostridium novyi type B, Clostridium septicum, Clostridium sordellii and Clostridium haemolyticum and against tetanus caused by Clostridium tetani.
For the passive immunisation of lambs and calves against infections caused by the above mentioned clostridial species (except C. haemolyticum in sheep).
Dosage: 
- Sheep: 1 ml – from 2 weeks of age
- Cattle: 2 ml – from 2 weeks of age
Administration: By subcutaneous injection preferably in the loose skin on the side of the neck
Withdrawal: Zero Days
Share
View full details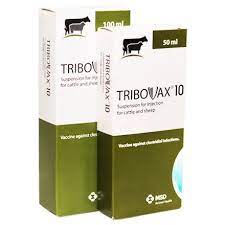 Always a pleasure to do your business here. Very knowledgeable on cattle and sheep.
John McDermott - Google Review