Quinn's Chemist
Regular price
Sale price
€229,00
Unit price
per
Sale
Sold out
Provita Hoofsure Endurance is a unique scientifically formulated footbath solution containing organic acids, tea-tree oil and wetting agents. Its highly concentrated formula (1:100) means it can be used up to 500 cows passes in a 200 litre footbath.
With innovation at the heart of Provita, our dedicated Research & Development team have now developed a new improved formula.  Utilising proprietary technology, the new formula is 33% faster acting and provides more contact time on the hoof.
Dairy Cows – for maximum control use continually at every milking, minimum footbathing frequency is 3 times per week.
Sheep – footbath every 2 to 6 weeks depending on risk level.
Share
View full details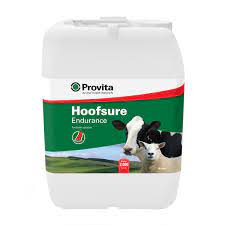 Always a pleasure to do your business here. Very knowledgeable on cattle and sheep.
John McDermott - Google Review