Quinn's Chemist
Regular price
Sale price
€140,00
Unit price
per
Sale
Sold out
The Maycillin bolus is a rapid acting udder health bolus proving as the ideal antibiotic alternative supporting cows' natural immune system. The udder health Bolus has been engineered to release the active compound Allicin, which has been proven to have antioxidant and anti-inflammatory benefits. The fast acting bolus, Maycillin, helps reduce the use of antibiotics in cases of high somatic cell counts and clinical mastitis in lactating dairy cows. Maycillin also comes with a zero milk withholding period.
Maycillin is also recommended for use in post calving transition support, particularly in cases of difficult calving and also in recurring cases of mastitis.  Two applications of the udder health Bolus is only advised in cases of Somatic Cell Count above 500,000 cells/ml, with application 30 days apart. Maycillin comes in a pack of 10, for application to 5 cows.
Active Ingredient: 
Allicin (natural ingredient)
Target Species:  
Lactating cows 
Treats and Controls:
Udder Health
Application Rate:
2 Boluses/ cow over 500kg
Withdrawal: 
Zero withdrawal period
Share
View full details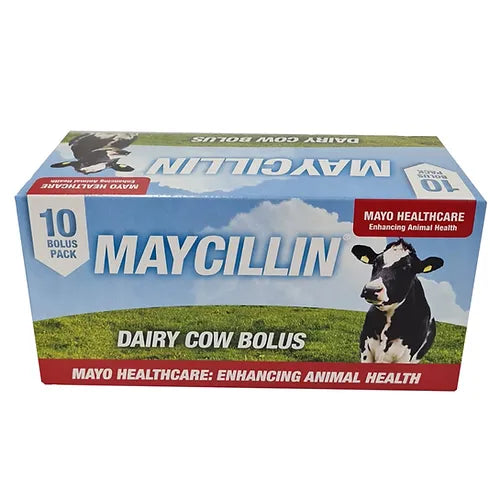 Always a pleasure to do your business here. Very knowledgeable on cattle and sheep.
John McDermott - Google Review